My Three Peaks Challenge Journey
The journey began when I decided to sign up for this challenge back in October 2013. Looking back, I am glad I made that decision.
I knew it would not be easy and it required serious commitment.  I however was ready for whatever training is necessary to complete this challenge.
For those of you following me on Strava, you might notice that I have been cranking up my kms significantly. It was not only the distances, I also had to do repeats.
I experienced high and low during the training. Long distance riding and climbing could be tough sometime, especially when you ride on your own.
On this occasion, I would like to thank Mr Rupert Belzunce for being a great training buddy. I do not reckon I would make it without your support.
Moving on the event day itself, I was nervous, excited and also scared when I left the accommodation to the start line.
I also felt really lucky. The weather was great although it was a bit chill at 6:30 AM.
The first wave of the riders left at approximately 7:15 AM and I was waiting impatiently. I was in wave black and purple, slightly at the back.
I could not wait to hit the road and start the event!
There was a delay not long after 720 AM that a vehicle entered into a closed road and the organiser had to hold the remaining waves for around 10 minutes.
I finally hit the road at approximately 730 AM.
The first challenge was the descent from Falls Creek. If you guys think that Welshpool Rd East is scary, it is not as scary as descending in the Australian Alpines!
It took me 55 minutes to descent from Falls Creek to Mount Beauty. Yes, it was a long winding descending road. There are some hair pins, which I never encountered in my life on a bicycle!
What made it even more torturing was that it was a cold morning. Thanks Mr Peter Mah for advising me to bring sufficient clothing (including wind jacket) for this descent!
I cannot thank you enough for this tips! If I did not wear my winter gloves, a long bib and a winter jacket, I would be freezing to death!
On my way down, I encountered two issues:
My Garmin mount collapsed and I ended up not having Garmin to monitor my heart rate and cadence throughout the ride
I had a chain drop but managed to get it back up without stopping (Thanks Mr Andrew Ballam for your tips before!)
I thought, this is not a good start of my day. Oh well, I finally hit Mt Beauty and continued my journey to the first climb of the day, Tawonga Gap Rd.
Having driven along the route a day before, I roughly knew what to expect.
Yet, I struggled to get the rhythm going. From descending to climbing in such a short distance, it did not give you much time to warm up the legs.
I had a quick stop refilling my water bottle at the first stop and continued to Harrietville. The route to Harrietville is the flattest section of the whole ride.
Time passed really quickly, by the time I realised, I was up against the second climb: Mount Hotham.
Mount Hotham has undulation hills with some sections at average 10% elevation. As long as the eyes could see, there were only trees and long road.
It actually reminded me of Mundaring Weir Rd or Death Valley in WA. I can tell you that Mt Hotham felt much longer.
Folks, after completing Mt Hotham, Mundaring Weir Rd feels like much smaller climb. Perth hills is not comparable to Mt Hotham!!
The challenge on Mt Hotham is completing three significant climbs with average elevation of 10% (as I mention again!), with a total distance of 4.9 kms. It was tough.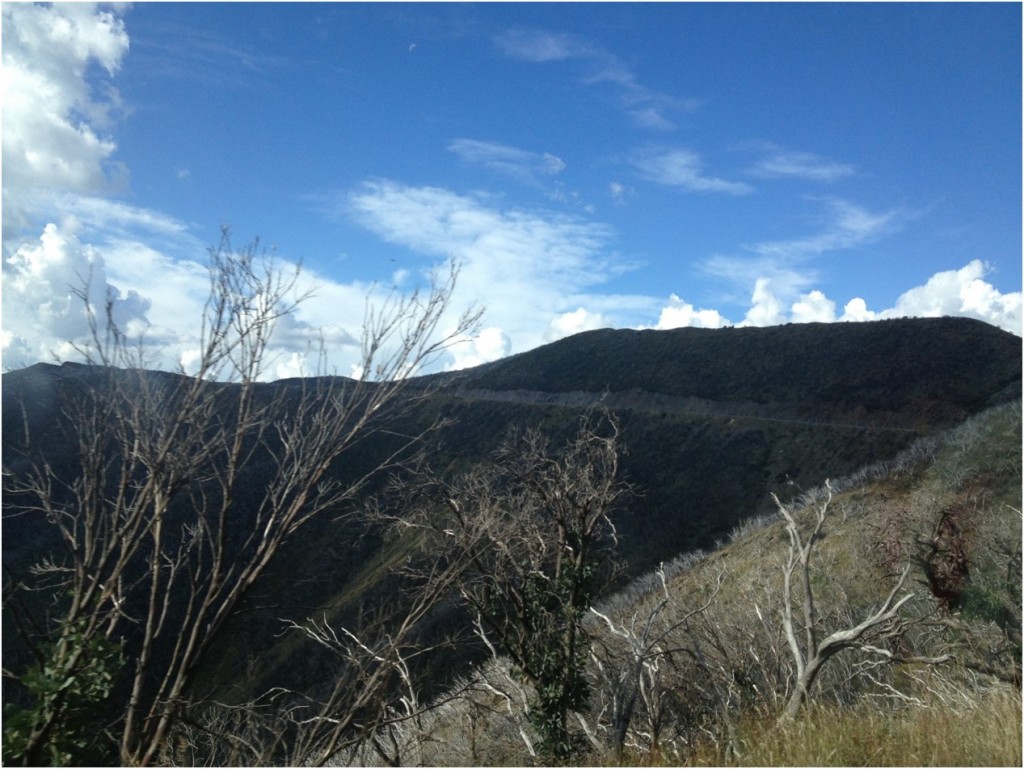 Many people got off from their bikes and even gave up half way completing the climb. It was discouraging but I refused to get off no matter what happened!
The training I had through SPR Boot camp enabled me going through these tough climbs easier. My stability while off the bike has also improved significantly.
My big thanks for Mr Rob Ramsden for having SPR Bootcamp and pushing me every week!!
Passing Mt Hotham, at around 130 PM I arrived at Dinner Plains for lunch and continued my way to Omeo.
It was another descent and undulation route on the way to Omeo. It was fortunately not as difficult Mt Hotham or Tawonga Gap.
The view was breath taking guys. It was just a mountain after a mountain, something I will remember the rest of my life!
Unfortunately I arrived at Omeo at 3:19 PM and I was stopped by Bicycle Network officials. He advised that I passed the cut off time which was at 3:15 PM.
I did not like what I heard so I asked what if I continue? The answer was I would be riding unsupported.
Having done 160 kms at that point, I knew that I would need supports. I had another 75 kms before I crossed the finish line at Falls Creek.
I decided to stay. My consideration was that I did not see another suburb (for getting supplies) unless I rode for another 40 kms climbing up the mountains.
I nevertheless was shattered…
My legs were great and my spirit was positive but I was unable to continue.
Having done so much efforts to be where I am now, at the end all went down the drain.
I will never find out that how it feels like to complete the final climb to Falls Creek and that was really the end of my journey.
Despite of the outcome, I have had a great experience and consider myself achieved a significant milestone: completing two out of three peaks.
If you ask me right now, am I going back next year? My answer is ABSOLUTELY!
I must be mad but I want to go through this challenge again and complete it.
To be honest, I miss the Alpines and I look forward to my next climb on Mt Hotham.
My love to cycling definitely exceeds my disappointment of having "DNF" status at the end of my 2014 Three Peaks Challenge Journey.
My fellow SPR members, I cannot mention each of you here but from the bottom of my heart I thank you all.
The club has helped me to be a better cyclist and a better person
Thank you for your word of encouragement from the first day I joined SPR.
Thank you for your word of advice. I have received many suggestions on how I improve and I really value each of them.
Thank you for the long hills riders who waited for me on every climb.
There were few rides when I started doing double and you guys waited for me patiently.
To Mr Jay Richardson, thank you for your understanding and care. You have been wonderful!
There are high and lows in preparation of this challenge, which I would like to share with you:
The trip can be expensive so you need to make sure that you have done sufficient training to cross that finish line!
My best advice is to get a training buddy. This person helps you having reality check with where you are at in completing the challenge
Advice your family what you sign up for and what this involves in advance. The training requires so much sacrifice.
Emotionally you want to have as minimal distraction as possible as this will have significant impact on your training.
Consider other training (eg SPR boot camp, running), It will help improving your cycling ability.
Go on longer rides and work on your nutrition. Riding on hills at more than 150 kms is different to riding on flats for 150 kms!
Enjoy the process! It is really critical that you do. It is nothing worse than treating your training like chores.
Stay longer at the Alpines if possible after the event. It is a great place for riding!
Falls Creek is great for hiking too!
I see you guys on the road!
Laurensia