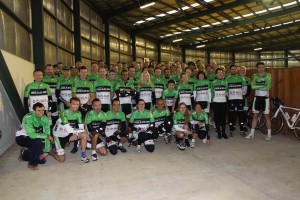 some people were asking about the funds that we raised for nicky and brett after the accident a couple of months back.  thanks to your generous support we managed to raise quite a lot of money to help them in their recovery.  the committee decided to match the funds raised and so therefore doubled the final amount.  this money has been split evenly and already given to both the guys.  it has been good to see them out and about and good to see nicky make the trip to kalgoorlie to help out .
ride leaders – support the club and help us become ambassadors for the sport in the public eye. put your name down as ride leader to ensure that the group ride is safe and organised. sign up here.
spr quarterly breakfast – our next club breakfast is on this weekend.  put your name down so we know how many to cater for. see the previous post for details.
women's group skills session –  this saturday a group of riders from spr will be taking our first women's skills session.  this spr initiative is all about a supportive introduction to group riding that takes the 'unknown' out of your first group ride. this opportunity is aimed at those wishing to explore the prospect of group riding without the pressure of high traffic or high speed.  see the previous post.
swan valley cyclo-sportif – sunday 29th june.  each year we target this event as a great way of getting people interested in the more serious side of cycling (without actually committing to a race).  it is also a great way to promote spr out to the cycling world as we usually dominate when it comes to number of teams present.  you may have seen on the previous post that we are looking for expressions of interest for team leaders.  this is for all levels of riders so we are hoping to get a fast group as well as all the mains and trannies represented.  multiple times if necessary.  we will also have a tent at the event so there is somewhere that you can leave your stuff while you ride.  get together with some of the people that you like to ride with and put your name down on the blog.
swan valley training session – john kitching is doing a training session for anyone who wants to have ago at the cyclo-sportif course before the event.  he is leading a main 3 group, so anyone around that speed may benefit from this session.  meeting at the velodrome at 7am on sunday and riding around the course a few times.
ride routes – a nice brisk ride to build up an appetite for the quarterly breakfast.  if you do the double, you can have double the food.
saturday 7th june
ride starts under the narrows (cityside) at 5:30am
early lap – earlybird 40.93km spr special
all rides start at coode st carpark at 7:00am
development group – novice shelley 36.06km spr saturday
transitional – trans mosman 40.39km spr saturday
fast & main groups – maddington 51.87km spr saturday
sunday 8th june
ride starts under the narrows (cityside) at 5:30am
early lap – earlybird 40.93km spr special
all rides start at coode st carpark at 7:00am
tranny – flat route usually around the river.
short – brktn weir 82.89km spr sunday