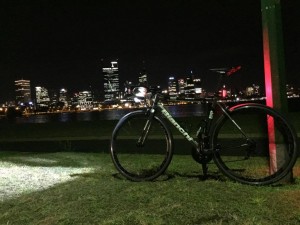 so another of our long standing club members has left perth this week.  stuart ivins has headed over to melbourne to live, so as a tribute, i stole one of his photos that he posted on facebook.  although a loss to our club, what this does is give us another contact in another city in australia for when we go travelling.  we look forward to seeing the new spr kit around the streets of melbourne.
ride leaders – support the club and help us become ambassadors for the sport in the public eye. put your name down as ride leader to ensure that the group ride is safe and organised. sign up here.
ride leaders sponsorship – this months ride leaders are proudly sponsored by Retul Bike Fit Lab.   please see the previous post detailing what they provide and we thank them for encouraging our members to step up as ride leaders.  ride leaders will receive a $10 Dome voucher to be used after the saturday ride.  if you have a business that you want to promote to our members, check out the previous post to both promote your business and help out the club.
spr agm & breakfast – this saturday, march 21st is our next club breakfast and will incorporate the club agm.  please see the previous post for more details.
club auditor – the club requires a annual audit leading up to the agm.  the 2104 financials have been viewed by mike tan and we appreciate the work he has done over the last 2 years.  we need to appoint a new auditor for 2015 so if you have any experience in this area and would like to help out the club, get in contact with us.
spr kit collection – the new spr kit will be available for collection at the agm this weekend.  please see the previous post for alternative collection arrangements. also be aware best online casino that the next order closes at the end of march (and every 3 months after that), so get your winter orders in.
club champion – the next race on the club champion calender is the midland 100 on april 12th.  please see the previous post for more details.  the results of the pemberton race will be posted soon.
rules of engagement – please read the previous post if you come out on any of our rides.  it is up to all members to enforce these rules.
accident report form – as a member, if you are unfortunate enough to have an accident on your bike, please use the form attached on the previous post.  this covers both insurance claims and allows the club to better manage it's risk.  what we want to use this form for is to understand if we need to change anything that we do on our rides.  if you and someone else touch wheels and come down on one of our rides, i would like you both to fill in a form and send it through.  it doesn't have to be just for serious accidents, tracking the minor ones can help us understand our risks.
ride routes – a new ride route this saturday to build up a appetite before the club breakfast.  it is a mishmash of a number of old rides including the original scarborough beach road without ewan st.  make sure you know the way or have uploaded to your garmin.  there is a link under the map to help you.
saturday 21st march
ride starts under the narrows (cityside) at 5:30am
early lap – earlybird 40.93km spr special
all rides start at coode st carpark at 7:00am
development group – novice shelley 36.06km spr saturday
transitional – trans rebold 38.69km spr saturday
fast & main groups – scarbs beach & hale 51.21km spr saturday
sunday 22nd march
ride starts under the narrows (cityside) at 5:30am
early lap – earlybird 40.93km spr special
ride starts at coode st carpark at 6:00am
uwct training – uwct training 107.2km spr sunday
beginner dams training – somewhere
all rides start at coode st carpark at 7:00am
short – wlsh weir 62.23km spr sunday
long – wlsh obs kal 90.32km spr sunday
monday 23rd march
ride starts under the narrows (sth perth side) at 5:30am
development group – development ride
main group – south stock 33.76km spr monday
tuesday 24th march
ride starts under the narrows (cityside) at 5:30am
spr tuesday 36.37km (river ride)
ride starts frasers carpark at 5:45am
development group – interval training kings park
wednesday 25th march
ride starts under the narrows (cityside) at 5:30am
spr wednesday 14.22km (uci masters)
ride starts raffles bike path at 5:30am
development group – stock road repeats
thursday 26th march
ride starts under the narrows (cityside) at 5:30am
spr thursday 37.26km (cott & freo)
ride starts frasers carpark at 5:45am
development group – interval training kings park
friday 27th march
ride starts under the narrows (sth perth side) at 5:30am