Race report by Lesley Burch
It must be something special to take a South of the River cycling club North of the Wall …. I mean river. At the rather civilised ATTA winter season starting time of 8am what could be more special than the "Time Trial".
"What is a time trial? Where did the humble TT come from?" I hear you ask.
For those unsure of what a time trial is….
time trials
bicycle race events in which individuals or small teams of riders ride the same route and distance separately for elapsed time. Time trials are generally started at preset intervals and held on an out-and-back or circuit course…..and generally mean the "n+1" rule is applied for just about every piece of cycling equipment you own….TT bike, TT helmet, TT skinsuit etc etc
Historically, one account is that in 1890, the National Cyclists' Union banned racing on UK public roads in fear of cycling, yes fear of the entire sport. As a result events organised by clubs around this time often involved pursuit of cyclists by horse-mounted policemen who threw sticks into racers wheels. Nice.
What resulted were secret races; an underground of cycle racing where organised races would happen under cover of darkness or first light of dawn with riders dressed from neck to ankle in black (just like ninjas). Races were referred to by code name and cycling press could not publish locations or competitors up to the 1960s. Super cool.
These days us cyclist are still "feared" by the general population but thanks to the ATTA folks it is much more organised, civilised, safe and non-ninja like.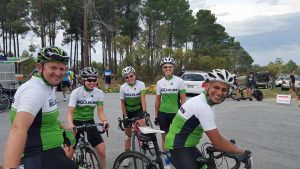 Sundays ATTA 30/60km TT out at Neerabup was exactly like this. The Neerabup course is a "flat" course with undulations throughout which come the turnaround point start to feel like L'Alpe d'Huez (note: not a realistic comparison). Generally calm conditions, which are preferred for TTs, with what seemed to be a rising headwind for the first leg of the out and back course. Lucky for me, with and 8:12am start, not so much so for Andrew Ballam, with a 9:23am start.
The TT had a huge number of SPR folks rising early to bury themselves in the hurt locker for the 30km or 60km options. A whopping 21 (plus an enthusiastic cheer squad in a sniffily Amanda Nabi) including 6 first timers and 8 first timers at Neerabup. That's 30% of the field!
SPR was extremely well represented taking out the top women's place easily with Davina Summers leading just under 4mins clear of the next woman out on the course and Jarred Anderson stomping out an impressive 43.6km average and 3rd fastest of everyone on the day. In the 30km SPR chicks took out 5 of the top 10 women overall with the men taking out 4 of the top 10 overall placings. In the 60km there were 4 of the top 10 from SPR including Tom Ford who broke the course record at a whopping average speed of 41.41km!
Now don't let the photos fool you, we are smiling at the end but it is nothing more than a grimace, some whimpering or Ballams wide
mouthed gasping for air out on the course. It may be tough but it's an experience and addictive one at that. The ATTA community is welcoming and supportive (except when you're late to the start line……4mins before your start you need to be there ready to go, you have been warned) and for anyone hesitant on racing in a peloton but keen to race against themselves and the clock why not have a crack. You get a timing chip, a race number, a start time and a PB to strive for every time. It's fantastic physical training but also important mental training.
Summer Season close at the classic Champion Lakes course is happening in a little over a week with the sparser Winter Season to follow. How hard fast can you do the 20km course? Why not have a crack?
Want to know more or have some questions, drop me a line or find me after a group ride.