From the office of the Vice President (and my trusty PA, Jordan):
The Chateau de VP household is in race mode at the moment with Mrs VP preparing for the Tour of Margaret River and me left to spend quality time with my beloved offspring. This is the first year in 3 years I've missed event and, fresh from a good break after Amy's ride, I'm not too concerned about it. There will be a large contingent of SPR riders (including El Prez) at the Tour competing for a wide range of teams, and good luck to everyone who is venturing out. For those of us holding the fort in Perth, the usual array of rides will be on offer, and with the rain coming through earlier than the weekend, there should be no excuses for not getting out.
The ride leader pilot program is coming to an end and there will be a few of us out leading and observing this weekend. It's been a great program to be involved with and Rob Ramsden has worked tirelessly to bring it all together. If groups need to be split, please listen the nominated ride leader at the briefing.
CycleSport WA Survey – CycleSport WA want to help the clubs improve their member experience. So they need to know what your club wants and needs. They have devised this short survey to get a feel for where they can focus a Membership drive.
So, can you please have a look at (BUT DO NOT COMPLETE) the survey, and if you have any feedback, either leave it in the comments, or email admin@southperthrouleurs.com.au
Survey link: https://www.surveymonkey.com/r/PGHSSH7
ride leader sponsor – the ride leader sponsor for november is Sharon Gleeson an Independant Consultant for Arbonne Phytosport.  Arbonne Phytosport provides products that are vegan certified, gluten free, dairy free and contain nothing artificial. formulated with plant-powered ingredients, essential branched-chain amino acids, vitamins, minerals, electrolytes, and botanical extracts, these products promote increased endurance and energy, and boost nitric oxide production to support blood and oxygen flow in muscles
rules of engagement – please read the previous post if you come out on any of our rides.  it is up to all members to enforce these rules.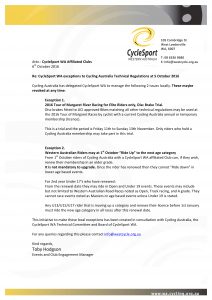 technical regulations – there have been a couple of changes to the wa technical regulations in relation to racing.  firstly, any juniors that renew their licences after the 1st october and move up an age group are then eligible to race in their new division.  this means that some junior riders will now be able to ride in the tomr.  secondly, there has been a technical exemption for the tomr to allow road bikes to use disc brakes.  there have been lots of new bikes released in the last couple of years that have disc brakes and the tomr is meant to encourage more people into racing.  as such, if your current bike has discs, you don't need to find a different bike to ride.  click on the letter to see all the details.
spr gloves – there are a small number of gloves available in black/green that were done as a sample before we finalised the white ones.  limited stock, in the club shop.  see the previous post for more details.
race licences – there are a couple of different types of licences that you can get when you become a member of spr.  a recreational licence and a racing licence.  recreational licences are for those that really only do the club training rides and want a bit of insurance coverage.  it covers a full year from the time you purchase it.  a race licence covers you for both training and racing and is necessary if you want to pin a number on.  race licences are only valid for the calendar year which means that they expire at the end of december.  however, the 2017 licences can be purchased from the 1st october and will then give you 15 months of coverage.  if you are looking at upgrading to do some racing next year, or need one to do the summer crit races, then now is the time to join or renew.
ride routes – With a possible shower forecast for the southern suburbs on Saturday morning (or at least that was the forecast when I wrote this), the plan will be to head north, with an old favourite ride.  The Sunday route will see both groups up Greenmount before going their own ways.
saturday 12th november
ride starts under the narrows (cityside) at 5:30am
early lap – earlybird 40.93km spr special
all rides start at coode st carpark at 7:00am
development group –  novice shelley 36.06km spr saturday
transitional – trans rebold 38.69km spr saturday
fast & main groups – tv stations 50.29km spr saturday
sunday 13th november
ride starts under the narrows (cityside) at 5:30am
early lap – earlybird 40.93km spr special
all rides start at coode st carpark at 7:00am
development group – coffee ride
short – grnmt goose 65.22km spr sunday
long – grnmt prk mnd wr 93.71km spr sunday
monday 14th november
ride starts under the narrows (sth perth side) at 5:30am
south stock 33.76km spr monday
tuesday 15th november
ride starts under the narrows (cityside) at 5:30am
spr tuesday 36.37km (river ride)
ride starts frasers carpark at 5:45am
development group – interval training kings park
wednesday 16th november
ride starts raffles bike path at 5:30am
interval training – stock road repeats
thursday 17th november
ride starts under the narrows (cityside) at 5:30arm
spr thursday 37.26km (cott & freo)
ride starts frasers carpark at 5:45am
development group – interval training kings park
friday 18th november
ride starts under the narrows (sth perth side) at 5:30am