so, a couple of issues to be dealt with today. firstly, although summer is still here and the days are still quite hot, the sunrise times have slowly crept up to overtake the start of the earlybird ride.  officially tomorrow sunrise is not till 5:54am with first light at 5:28am.  this means that the start of the earlybird ride will be very close to in the dark.  the official stance from the club is that when the sunrise time is later than the start time of the ride, then lights are needed while riding.  now this doesn't mean that you need a 6 million lumen retina burning multi-million dollar set of lights on your bike.  just a small flasher to get to the start with the capability to switch to solid during the ride.  it is eventually daylight during the ride and you generally need sunnies on for the last part, but lights for the start.  crazy times and a pain in the arse, but it is just that time of the year.  now again, the official stance is because it is law.  much like being told you cannot ride with us if you turn up without a helmet, the same applies to lights when the ride is before sunrise.  from an insurance perspective, if it is proven that you were not following the law at the time of an accident, then there is a chance that your claim can be rejected.  this is not just something that applies to cycling insurance, but also health and  3rd parties car insurance if you are involved with a vehicle.
secondly, the growing trend within the club of people yelling at each other.  unlike many group rides in perth, we often have ride leaders or club officials on the rides that are there to keep the group in an orderly manner for the safety of all riders.  now these leaders are also people, so it is understandable that as people you can get frustrated and raise your voice.  however, this should not be the default position especially when trying to improve someones behaviour.  not saying that there is not a place for a loud warning, especially when someone is doing something potentially dangerous, but gentle guidance will generally get a better response.  at the same time we are happy for others to raise their voice in the interest of safety, but yelling at someone for not rolling through, or dropping a wheel, or not cornering as fast as you would like, is not acceptable.  we all started somewhere on the bike and there are not many people that just rolled out of bed and became a pro rider.
at the end of the day, the rides are there for your enjoyment.  it is more enjoyable when accidents are not involved and everyone is playing nicely.  we are an inclusive club, but there has been a number of times that we have asked a rider not to ride with us anymore.  it is not something we enjoy but we have rules and etiquette guides to make sure that the rides are enjoyable for all.
ride leader sponsor – february's ride leader sponsor is Melody Wheels who are a multiple return sponsor for the club.  they are a wheel building specialists in the same way as one might distinguish a medical specialist from a gp.  they do precision wheel building and wheel repairs, and that's the only thing they do.
spr racing – The Pemberton Classic staged over the March Labour Day long weekend has opened entries. SPR has headed down in numbers for previous years, and this continues to be a great weekend away. The beautiful bushland surrounds, local cafes, pubs, wineries (and a brewery!), not to mention the ENTIRE town getting behind this one makes it pretty special. See previous race reports HERE  and HERE. Check out the event website with links to registration.
More locally, The Ring Criterium Series continues this weekend at Northam. Dr J and Vanessa will be out with the SPR Van so to those of you racing, make sure you get there early enough to assist in the set up. Check out the Race Reports from the first two rounds HERE.
memberships new changes – there has been quite a big change with memberships in 2019.  cycling australia have moved to a new system to keep track of memberships and this has allowed a few new benefits as well.  firstly there are a few different types of licences. for us the two main ones are ride+ and race.  obviously if you want to race, get the race one and if you just want coverage while riding with the club, get the ride+ one.  links can be found here.  while there is a cheaper ride basic option, it won't cover you for much if you have an accident on a club ride.  there is also a new billing system where you can elect to pay monthly instead of annually.  for those that don't appreciate the big hit for a elite race licence, you can split this across the year.  the minimum amount is for 12 months, though, so you still have to pay even if you don't race.  there is also a 7day race licence that replaces the 3 day licence.  this can be purchased online and will be needed for event like the tour of margs, or if you just want to try out a crit or two.  it is only $38 but i am not sure how many you are allowed to purchase over a year.  finally, for those that want to transfer clubs there are two options.  firstly, if you current licence has expired, you now have the option to select a new club when renewing.  for those that want to join or leave spr for a mid year transfer, then you need to contact cycling australia memberships directly as the clubs cannot provide this service any more.
minimum passing distance survey – The WA Government is working to improve cycle safety and has introduced the Minimum Passing Distance regulation. Cardno has been appointed by the Road Safety Commission to conduct research on this regulation over a two year period to ascertain levels of compliance and any trends in passing behaviour.  Please find the survey linked here.
perth arena psp –the psp behind the perth arena was shut a number of years ago due to safety concerns.  those concerns have been met but the path is still not open.  this forces cyclists and pedestrians to go the long way around the arena and are forced to negotiate the typical obstacles around a public space.  please sign the petition linked here to try to get the path open again.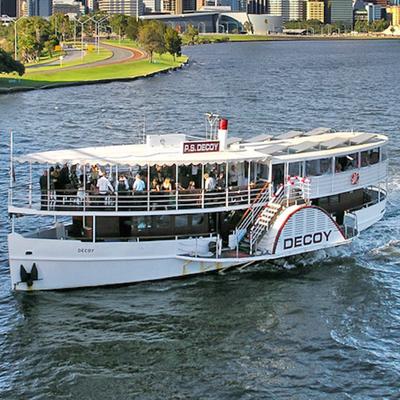 spr 10 year anniversary – south perth rouleurs 10th anniversary celebrations on the 6th of april 2019 will be in the form of not one, but two events! starting at 7am, we will conduct a suitably nostalgic, guided river ride where we will take in some of the significant landmarks and spots-of-significance that represent important milestones of the club's growth and development. in keeping with our south perth heritage, we have secured the PS Decoy to steam us around…you guessed it…a river loop with a difference!  This will be a black-tie evening not to be missed.   see the previous post for more details.
saturday start locations – we have revamped the group start locations on saturday morning.  please have a look at the map so you know where your group will congregate.  this makes it easier for ride leaders to give you a briefing before the ride starts.  see the previous post for more details.
spr juniors – juniors is getting bigger.  more kids, more hill climbs, more pancakes and more bacon.  seriously, pancakes with bacon seems to be the food of choice.  anyway, summer is here so suns out, sons out (daughters welcome too).  under 10's or over 10's welcome with parents.
from the ride coordinator (with help): In the spirit of Saint Valentine – take some time this week to ponder on why you fell in love with cycling. Here's some things to reflect on:
– What were the specs of your first bike, no not the first road bike, the one you learned to ride on, with training wheels – I imagine you were more concerned with the colour, than how heavy it was, or accessories of spokie-dokies, a plastic basket and streamers rather than computers and power meters.
– Do you remember your first commute – maybe it was to school. Were you thinking about how fast you were going, or the annoyance of having to navigate a footpath or other mini commuters and their parents? Or did you focus more on ringing your bell, waving at the neighbours, and stopping at the intersections so you didn't get yelled at by a grown up or cleaned up by a car.
Let's bring the love back into our rides this week, let's ride like it's the first time, but with more skill (extra point for anyone with streamers on their handlebars this Saturday).
saturday 16th february
ride starts under the narrows (cityside) at 5:30am
early lap – earlybird 40.93km spr special
all rides start at coode st carpark at 7:00am
junior juniors (under 10 with parent) – kings park juniors 23.72km spr saturday
juniors (10 – 15 yrs with parent) – kings park juniors 23.72km spr saturday
development group –  novice shelley 36.06km spr saturday
transitional 1/2 – trans canning vale 42.34km spr saturday
fast/main – south st 51.23km spr saturday
sunday 17th february
rides start at coode st carpark at 6:00am
development group – coffee ride – Summer Sundays at Six am (Dec to Feb)
short – khna weir 72.23km spr sunday
long – can mills peet obs 90.30km spr sunday
monday 18th february
ride starts under the narrows (sth perth side) at 5:30am
south stock 33.76km spr monday
tuesday 19th february
ride starts under the narrows (cityside) at 5:30am
spr tuesday 36.37km (river ride)
wednesday 20th february
ride starts raffles bike path at 5:30am
interval training – stock road repeats
thursday 21st february
ride starts under the narrows (cityside) at 5:30am
see previous post for ride groups
spr thursday 37.26km (cott & freo)
ride starts frasers ave at 5:45am
development group – interval training kings park
friday 22nd february
ride starts under the narrows (sth perth side) at 5:30am